Transform your home into a Dream Wedding Venue!
Wedding & Event Hire in Melbourne
Our mission is simple: to infuse rustic charm and timeless beauty
into every occasion we touch...
Welcome to Country Charm Event Hire, your premier destination for rustic-theme furniture and décor hire in Melbourne.

Our carefully curated collection includes handcrafted wooden tables, dining chairs, wine barrels, lounge options, décor and accessories for your special event.
Our pieces have been selected with attention to detail, ensuring it not only looks beautiful but provides comfort for you and your guests.
Contact us today to see how you can add a touch of rustic charm to every corner of your event space!

What is Our Specialty?
At Country Charm Event Hire, we specialise in providing rustic-style furniture and décor, for your wedding,
special occasion or corporate event.
We're a hard-working and passionate team and our commitment to friendly customer service and extensive background in Event Management help set us apart from others.
We offer farm tables, seating options, arches, bars, wine barrels, backdrops and much more.
We believe that furniture should be both functional and aesthetically pleasing, and our collection reflects that philosophy.
With a growing focus on backyard weddings and events, we also regularly service venues in Melbourne's outer east including the Dandenong Ranges, Yarra Valley, Gippsland Region and Mornington Peninsula.
Contact us today to discuss your vision and let us bring the rustic charm to your special occasion!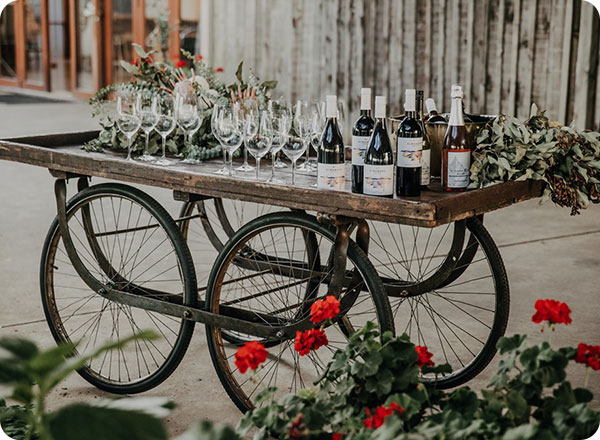 Simple Process
Our items are organised by category to make it easy to search for your required products. Alternatively, use the search box at the top of the page. Submitting a Wishlist is the easiest way to send your enquiry to us.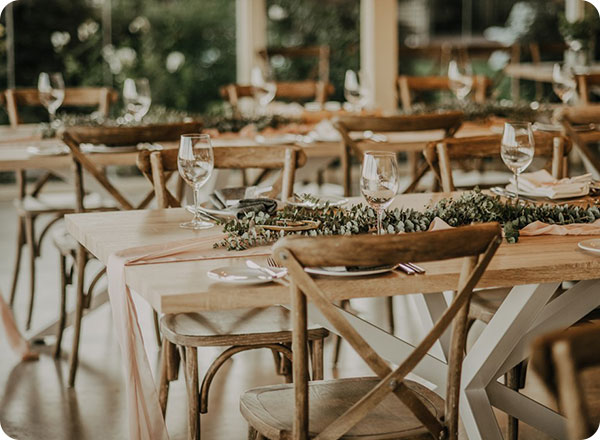 Transparency + Great Value
Our affordable prices are listed on our website for you to see up-front. This makes it easier for you to add and swap from your wishlist, whilst keeping within your budget.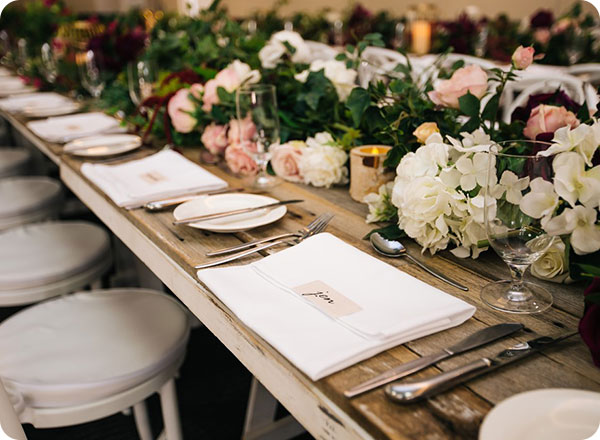 Pride + Maintenance
We take great pride in the presentation of our items. A high level of care and preservation goes into maintaining the quality of every hire product in our warehouse.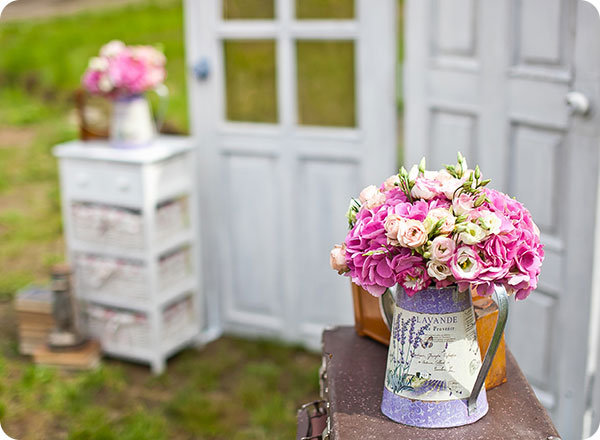 DIY or Delivery
Small orders can be picked up and returned to our warehouse in Boronia. Alternatively, we can deliver and collect the items for you. Click HERE for more information on our delivery and setup services.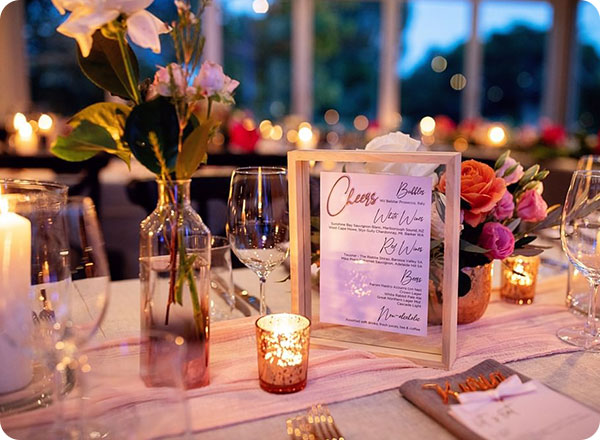 Experience + Trust
We are committed to excellent customer service! With a background of almost 20 years in the events industry, our knowledge and expertise can assist with your planning and product selection.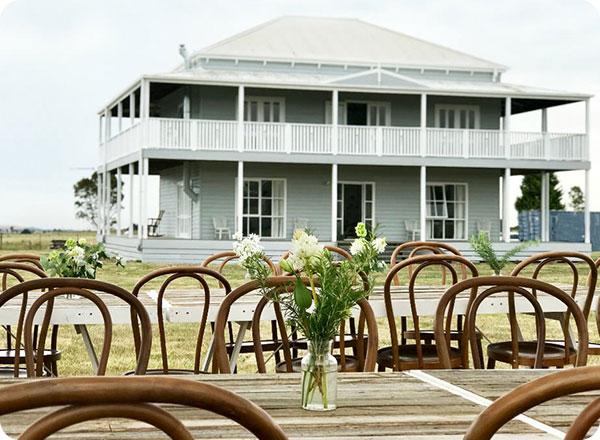 Sustainability
We aim to reduce our environmental impact by upcycling, repurposing and reusing. We don't offer 'one-use' or wasteful products. When a product must be purchased, we focus on Australian-made.
Customer Testimonials
Oh my goodness, you are the most incredible person!!! When Myself and Brad walked into the reception we were blown away! It was everything that we had dreamed of. We cannot thank you enough for what you did for us, everyone thought it was rustic and beautiful, definitely our whole vibe for the wedding- I truely cannot thank you enough, you absolutely made our dream come true!
Erinn & Brad - The Shearing Shed, 2022
Helpful, friendly communication from Kelly right from the start. Was very responsive to all queries, and arrived, delivered and setup exactly as promised on the day. The furniture and decor looked beautiful and their pricing was very reasonable. Would not hesitate to engage Kelly Ann Events again for future functions and will recommend to others.
Kelly Cooke - Corporate Event, Royal Botanical Gardens, 2022
Kelly is so friendly, professional and wholeheartedly in this field she is so passionate about because she genuinely wants couples to achieve their dream wedding. We were amazed at how beautiful the set up was and received compliment after compliment from our guests. I do not hesitate recommending Kelly Ann Events for your wedding!
John Gaffy - Home Wedding, 2022
Kelly Ann Events were a pleasure to deal with, they were the most affordable event rental company that we could find and Kelly was polite and very quick to respond to our many questions that we had along the way, would easily recommend using them.
Mario Visic - CERES Community Environment Park, 2022
The wine barrels & table set up & arbor with artificial flowers was absolutely beautiful. For a home wedding with minimal decorations these items gave us the wedding feels. I Highly recommend these items in the package. As for the service - Kelly has everything in order. Professional, personalised and on time. We could not have asked for anymore. Many thanks Again
Jenny Corstorphan - Home Wedding, 2022
Kelly Ann Events was a part of our wedding and I'm so glad we picked Kelly to do our decorations. It was everything i imagined - simple and stunning. Communication was great and i would definitely recommend Kelly to all my family and friends. 11/10
maja r - Wedding, 2021
Kelly Ann Events were a great company to deal with and they were very accommodating to our needs. Not only were they punctual in delivering and picking up the equipment/furniture we hired, Kelly even went above and beyond by staying and setting up the rigging/curtains for us. Thank you so much for making our event look amazing. Couldn't recommend enough!
Amanda O'Keeffe - Milestone Birthday, 2022
Kelly was attentive to our needs and flexible when we wanted to alter things. Excellent value and service, can highly recommend. Next time we ever have the need for furniture or props at a party Kelly will be the first person we call. Great personal service a business you should support.
Geoff Jones - Private Party, 2021
Kelly was easy to deal with it and very professional. Ordering and payment of the item was easy as all were done online. Kelly faces time us when setting up as she wanted us to know where the item was placed and also took a photo of her work once done . I would recommend Kelly Ann Events to anyone.
Geetha Santhira Thesan - Mulgrave Country Club, 2020
Kelly was amazing! Huge range of decorations for us to chose from and they certainly made the day more special. From the lounge set to the giant jenga all the guests commented how great the decorations were. Thanks for everything Kelly :)

Dave and Drisana
Dave Griffiths - Home Wedding, 2020
View All